Social media as a business opportunity
How to use social media as a business opportunity for your medical practice?

[Examples included]
In this article, I discuss two easy-to-implement social media examples that generate business opportunities for your medical practice.
Social media as a business opportunity
How to use social media as a business opportunity at your medical practice? [Examples included]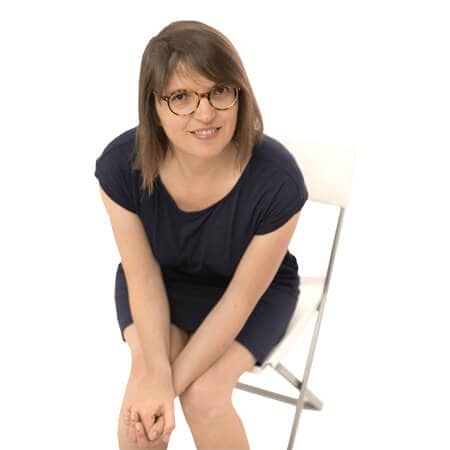 Els Van de Veire
April 16, 2021
Create an 'Instagram wall' at your practice
Social media as a business opportunity
As an obstetrician or fertility specialist, you turn out to have a massive advantage compared to other doctors, when it comes to posting images online: you work with babies. As it turns out, pictures of babies are the most universal in persuasion. How can you take advantage of that from a business perspective?
Research suggests that babies instigate a high level of activity in our orbitofrontal cortex, so they make us react emotionally. Pictures of adults have zero impact in this area of the brain. As you work with babies and their parents, you are in the best position to post online and to consider your social activity as a business opportunity.
Gold Coast Dr Drew Moffrey is a great example when it comes to using social media and attracting followers. His Facebook page has over 2.8k friends and his Instagram profile over 1.3k followers. Dr Drew understands that baby pictures work well. Instead of posting random infant images, he poses with newborns and their parents in front of -what we call- an 'Instagram wall'.
It is really simple: you create an attractive background in your office including your logo, and like Dr Drew, you add a quirky feature that is social-ready and attractive to share.
"Special delivery by Dr Drew" | Welcome to the world: Baby Name"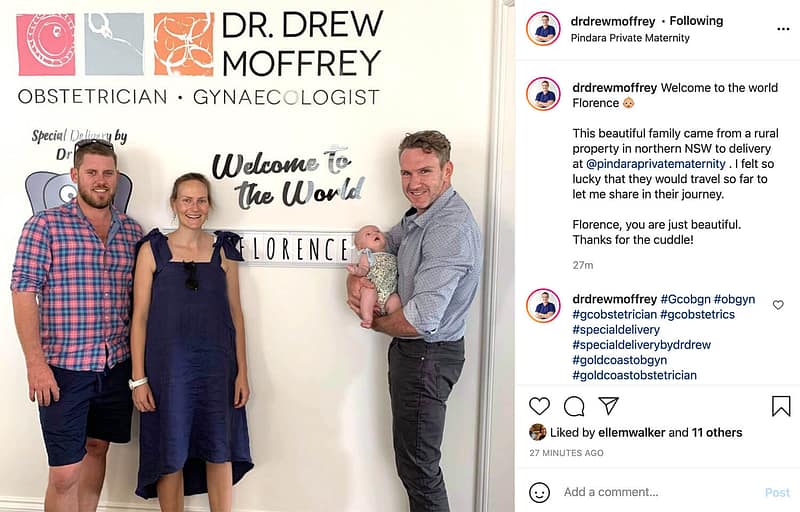 The letter board is what we like most. Each image is personalized and ready to be shared with the world. If you wonder how Dr Drew was able to attract over 3,000 followers on Instagram and Facebook: creating images that parents are likely to share is definitely a part of the strategy. In turn, this leads to more visibility, more word-of-mouth promotion (both offline and online), and more patients.
Talking about letterboards… @modernhousefamily, a family blog, uses letterboards to make announcements.
A simple, stylish idea that any obstetrician or fertility specialist can implement straight away.
Social media as a business opportunity
Perth gynecologist Dr Tamara Hunter does live Q&A's on Instagram to answer questions and educate her patients. Granted, video is not for everyone. But when you don't shy away from the camera, Instagram Live increases your visibility as it sends push notifications to anyone and everyone who follows your account. In Tamara's case: to over 1.2k followers.
As a patient, imagine having your question answered directly from your favorite doctor? Quite impressive isn't it? Live Q&A's on social increase engagement and build strong relationships. It's easy to do and simple to announce and promote.
Leverage social media to build traffic to your website
Social media as a business opportunity
The whole idea of spending time on social media as a doctor is about driving more traffic to your website and generating leads. Whether you are attracting strangers to become visitors, converting visitors into leads and closing leads into patients, social media marketing can play a key role at any given time.
So when you post pictures like Dr Drew Moffrey, or you go live on Instagram like Dr Tamara Hunter, make sure you guide your social media audience to a "platform" that you own. In your case, that is your website. Unlike Facebook and Instagram, you own your website and your live videos should be reused on your website, either as a blog post or a featured video on your homepage.
Google loves new and fresh content and rewards website owners who actively update their website, by ranking them higher. Since you are producing regularly on social, why not repurpose your media on your own platform and create leverage by ranking higher over time?
Schedule a free appointment
Social media as a business opportunity
Are you ready to explore how digital marketing can help you build your practice?
Schedule an online and free appointment with our digital strategist today.